Zoella Posts Picture Of #RandomMan And His Dog, Turns Out To Be Pink Floyd's David Gilmour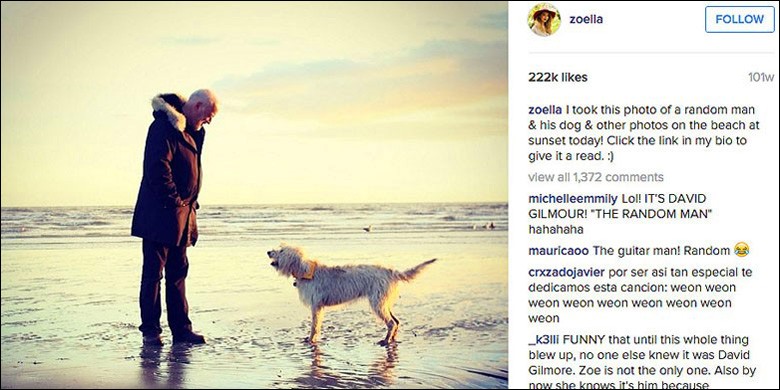 The kids these days, they see a random man and his dog frolicking on the beach and all they see is an easy photo opportunity, destined for their Instagram page, they don't even know that man happens to be guitarist and vocalist from one of the most famous rock bands in music history, Pink Floyd's Dave Gilmour!
Zoella (aka Zoe Suggs), who you may or may not have heard of, is a YouTube star and back in 2014 she took a photo of a man and his dog on the beach in Brighton, England which she captioned "I took this photo of a random man & his dog & other photos on the beach at sunset today! Click the link in my bio to give it a read."
Noting wrong there so far, just another photo for your Instagram album. Move along.
But the story doesn't end there. Although the photo is a few years old it's only suddenly come to the attention of the internet, and people have been finding it very amusing that Zoella failed to recognize one of the best guitarists to have ever lived (who you may or may not have heard of).
Such is the interest it generated that it came to the attention of Gilmour's wife, the writer Polly Samson, and she also commented on the funny situation.
Daughter's just drawn my attention to this "random man" on Zoella's… https://t.co/KgH3LzqulF

— Polly Samson (@PollySamson) February 8, 2016
It's a classic case of generational cultural divides.
Dave Gilmour is no doubt absolutely and utterly indifferent to the whole affair. But he may come out of it with a new moniker (and title for his next album): Random Man. It's actually not a bad title. Do it, Dave.
Below is the Instagram post that started it all (click through to Instagram to read the hilarious comments).
And here's some of the responses.
Kudos to @AlXIglesias for this #RandomMan pic.twitter.com/8QkIfbNrsN

— Guy Pratt (@guypratt) February 10, 2016
@PollySamson someone has commented 'I love old people. Especially with their animals' and I might die of laughter.

— Alexandra Heminsley (@Hemmo) February 8, 2016
Down to just 6 weeks until I see the #randomman in LA. After 28 years, the 14hr flight, & $$$, should be nice pic.twitter.com/OfWn8R9xjQ

— Mat Jessep (@MatJessep) February 11, 2016
@katiesol i would have exactly zero fucking idea who he was. I'd speak to him to meet the dog, though.

— Dave Rowlinson (@Dave_Rowlinson) February 9, 2016
I'm at that difficult age when I don't who Zoella or David Gilmour are pic.twitter.com/S6Vs4ombfY

— ohchrisburton (@ohchrisburton) February 9, 2016
Everyone slating Zoella for not recognising David Gilmour when they couldn't pick a YouTuber out of a lineup. pic.twitter.com/SpRogyAnGo

— The Guyliner (@theguyliner) February 9, 2016
@theguyliner I once mistook DG for a flower delivery man at a party. Took his flowers & tried to shut the door on him. #teamzoella

— Pippa Wright (@TroisVerres) February 9, 2016
There's David Gilmour's next album cover & title sorted right there… #randomman https://t.co/wvIyKRfPeQ via https://t.co/hOzF33PaHq

— Mike Gough (@MikeGoughLECC) February 9, 2016
@ryanjohnbutcher If he were standing in front of his album cover strumming out Another Brick in the Wall on his guitar, I'd still struggle.

— The Guyliner (@theguyliner) February 9, 2016
This is a good one: rock god David Gilmour patronized by clueless YouTube virtual personality https://t.co/Ie9Uu46dpg #randomman

— Katie Puckrik (@KatiePuckrik) February 9, 2016
To be fair #randomman had no idea who the #randomyoungthings were either. @Zoella LOVELY pic btw. https://t.co/owJe7Dawrg

— Polly Samson (@PollySamson) February 9, 2016
Zoella Called David Gilmore A #RandomMan Because Of The Generation Gaphttps://t.co/TmRO18uhFc pic.twitter.com/074U8bgi3A

— We The Unicorns (@wetheunicorns) February 10, 2016
Oh, @Zoella didn't know the man right in front of her was David Gilmour. #RandomMan is now exposed, thanks to Polly! pic.twitter.com/asPQiMcvRa

— David Gilmour (@GilmourOrgasm) February 9, 2016
#RandomMan Second picture is here – very nice
https://t.co/2Ph00ijvfm pic.twitter.com/3DjZW1yYS2

— Brian Wernham (@BrianUkulele) February 11, 2016