On a Scale of 0 to 5 – Just How Motivated Are You?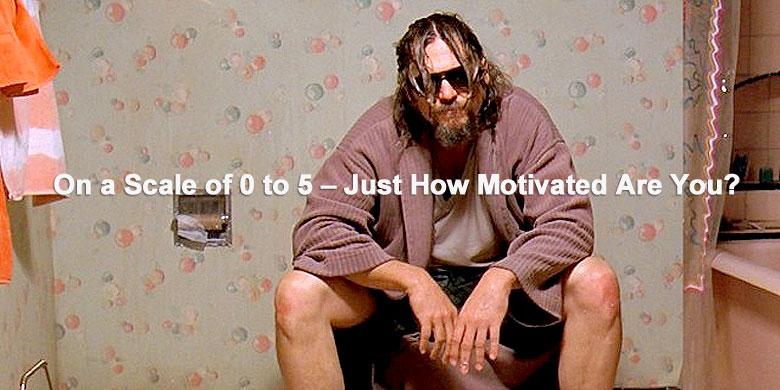 You know, it's a real effort to write anything here. But that's laziness for you. Some are born lazy, some achieve laziness and some have laziness thrust upon them. Whereas motivation takes effort, dedication, conviction.
Chances are you're lazy at least a few times a week. Maybe more. But as for motivation, who has the time? Well, to find out if you have any motivation at all, take this definitive quiz and discover if you're the kind of person who leads the charge or sits at the back and waits for someone else to do all the work.
There's only 5 questions so it won't be too much of a strain on your system. Give it a go, if you can be bothered.
——————————————————————————————-
On a Scale of 0 to 5 - Just How Motivated Are You?
You're slumped on the couch and want to change the channel, the remote control to the TV is just out of reach. Do you:

Get up and go pick it up.
Pick up a random DVD cover lying nearby using your toes and stretch with all your might to try and reach it. You can do it. You can do it!
You've not got the energy to sit up, let alone get up and walk three paces. Forget it, a few more hours of Judge Judy won't kill you.
You call out for your mom/girlfriend/wife/child/dog to come help you get it.
TV is highly over-rated anyway, you reach out and pick up a book to read about self motivation.
The kitchen sink is overspilling with dirty dishes, flies are buzzing around, there's some unidentified matter in there which you can't classify but smells nasty. Do you:
Wonder to yourself if it will start self-cleaning and precariously balance your used dinner plate atop Mount Unclean.
Bribe the kids/your sibling/partner/dog to do it.
Toss the whole lot of it in the garbage and go buy a new set.
Get on the internet and buy a dishwasher ASAP.
Get to work on that motherload, you'll feel so much better for doing it. Plus, hey, it's therapeutic, right?
Your idea of a good day is:
Waking up early, going for a workout, meeting some friends for brunch. Then spending the day at a museum or walking in the park and catch a movie in the evening.
Getting up around noon and sitting in your favorite chair playing Xbox all day.
Driving to the coast with your partner/kids/dog all of the aforementioned and spending a day on the beach—making the most of your time with them and creating some lasting memories that you'll cherish forever.
Shop, shop and, erm, SHOP!!!
You've been doing some decorating, you've finished painting and put everything away when you notice a small patch in the corner of the room that you missed. Do you:

Don't worry about it, you were going to hang a picture there anyway.
Add it to the ever-growing list on the fridge that reads "Things I need to do around the house."
It's late, you'll do it tomorrow.
Move that cabinet a few inches to the left. There, perfectly covered, no one will ever know.
Curse, then go get the tin of paint and freshly washed brushes and finish the job. After all, a job's not worth doing unless it's done right. Right?
You've just bought some new flat pack furniture from IKEA. You finally get it home but it's really, really late. Do you:

You know what, the box itself makes for a great desk chair. Why bother unpacking it at all?
Argue with your partner one final time, kick the damn stupid boxes and shuffle off to bed.
Phone your parents and invite them over tomorrow, you know your dad can't resist a challenge like that.
Make a strong coffee. Unpack it, read the instructions carefully and go at it with an Allen key. It's gonna be a looong night.
Throw it out with the trash and ask yourself "Why the heck did I ever consider going to IKEA in the first place?"
Once you are finished, click the button below. Any items you have not completed will be marked incorrect.
  You scored %%SCORE%% out of %%TOTAL%%.
%%RATING%%
Your answers are highlighted above.
There are 5 questions to complete.