Makeup Artist Mimi Choi Creates Stunning And Very Trippy Optical Illusions

Mimi Choi is a makeup artist whose creations exceed what you probably thought was possible using typical off the shelf beauty products. Hailing from Vancouver, Canada the 31-year-old makeup artist was previously a school teacher Choi decided she needed a new challenge and left her teaching career and has been creating her mind-warping illusions for around three years, using herself and models as the canvases for her work.
Working as a makeup artist Mimi Choi is able to turn a human face into, say, a patchwork of eyes and noses. Or make someone appear as though their face is glitching. Or create multiple eyes cascading down the face like something out of a Guillermo del Toro movie. All done without any prosthetics too. The results are mind blowing.
According to Allure Choi honed her craft at beauty school, but now has creatd her own style, which is a mix of the bizarre, the gruesome, and the illusory. Some of them can take hours to complete, with the makeup artist using paint brushes to get the right amount of detail and accuracy in her designs.
""I'd never tried any kind of crazy make-up on myself, but I just got out my black and white eyeliner and gave it a go." Mimi recalls. Asked about how she gets ideas for her incredible makeup designs she tells Allure "When I do illusions now, I draw my inspiration mostly from my surroundings, photography, paintings, and emotions."
How Mimi Choi Creates Stunning Optical Illusions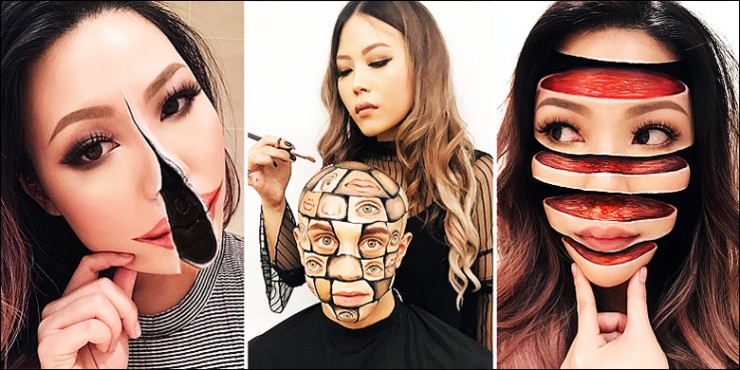 Images: Instagram / Makeup Artist Mimi Choi
Everyday and professional makeup products are used—like liquid eye liner and Kryolan Aquacolors—for these, which along with transforming facial features also include turning her hands into sushi rolls.
Of course it isn't just what the makeup artist uses that make her stand out, but how she uses them. Use of shadows, stark contouring and highlights help create the incredible illusions, like a woman who looks as though she's been cut up in sections. Many of them will make you do a double take to check what it is you're looking at.
And looking at the stunning results it's hard to take in that there's no digital manipulation going on.
"My main goal each time I do a new look is to beat myself from yesterday because I'm the biggest critic and competition to myself." she notes to Allure. "It's gotten really hard to impress myself these days but it motivates me to keep trying and doing better."
Check out some of Mimi Choi's designs below. And follow the makeup artist on Instagram for more.
Makeup Artist Mimi Choi Messes With Our Minds