Jay-Z Defends Tidal On Twitter, Internet Responds By Mocking Him And The Service #TidalFacts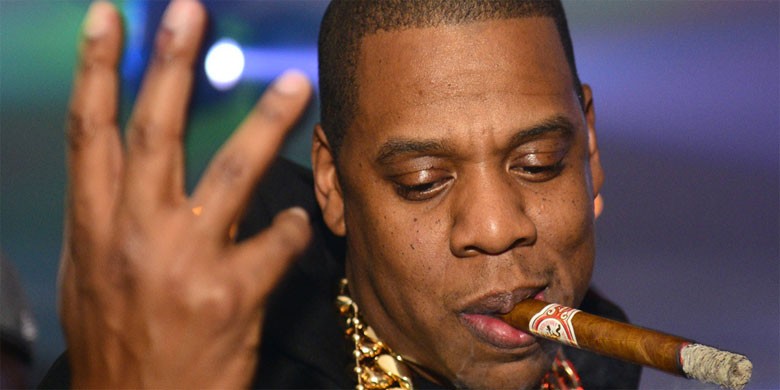 It's not easy being a multi-millionaire in the music industry nowadays, thanks to Spotify, which is stopping them from becoming even richer than they already are. So needs must and other streams of revenue must be sought. Hard times, hard times indeed.
So Jay-Z and fellow top tier musicians showcased Tidal recently, a music service that he bought and rebranded which lets you stream CD-quality songs for a subscription fee. Since it's announcement, however, it's not had the best of times.
Not only has there been a backlash and lots of negativity saying it's too expensive, but it's also lost staff (including its former CEO) and subscriptions haven't been as high as they'd hoped. So, at the weekend Jay-Z took to twitter to defend his new venture against the haters using the hashtag #TidalFacts.
Here's a few of those tweets.
Tidal is doing just fine. We have over 770,000 subs. We have been in business less than one month. #TidalFacts

— Mr. Carter (@S_C_) April 26, 2015
There are many big companies that are spending millions on a smear campaign. We are not anti-anyone, we are pro-artist & fan. #TidalFacts

— Mr. Carter (@S_C_) April 26, 2015
….Tidal is where artists can give their fans more without the middlemen. #TidalFacts

— Mr. Carter (@S_C_) April 26, 2015
And so on. But this being twitter, people weren't just going to let Mr Carter get away with creating a hashtag without it getting hijacked for them to air their opinions and mock him. So mock him they did.
"No, seriously. Tidal is PERFECTLY fine without you, jerks. In fact, we don't even want YOU to subscribe." – Jay Z #TidalFacts

— B.J. Steiner (@DocZeus) April 26, 2015
Jay-Z tryna make it seem like he aint damn near a billionaire im not paying $20 a month for no damn Tidal i have Weed to cop #TidalFacts

— WRIST BENOIT (@lordcoon_) April 26, 2015
This is Jay Z right now #TidalFacts: https://t.co/6vg32zbhZN

— Step yo' cookies up. (@PurpleZolanski) April 26, 2015
RT @S_C_ Tidal is doing just fine. #TidalFacts pic.twitter.com/gyUsQL0AsW

— No. 2 Pencil (@JayOhEeElEyeEe) April 26, 2015
#jayz tweets like once every 3 months. Starts a failing music service and now he's like a 14 y/o girl who discovered Twitter. #TidalFacts

— jason shaltz (@JShaltz) April 26, 2015
If Hov really wants everybody to sign up to Tidal, he needs to upload the audio to that Elevator Fight feat. Solange #TidalFacts

— NeKo (@281NeKo) April 26, 2015
And, as is the unwritten internet law in these type of circumstances, someone created a parody account called @FakeTIDALFacts. Read a selection of some of the best ones below.
Taylor Swift is hosting her song about breaking up with Spotify as a Tidal exclusive. #TidalFacts

— #TidalFacts (@FakeTIDALFacts) April 27, 2015
50 Cent thinks Tidal is an energy drink. #TidalFacts

— #TidalFacts (@FakeTIDALFacts) April 26, 2015
Tidal is Jay Z's 100th problem. #TidalFacts

— #TidalFacts (@FakeTIDALFacts) April 26, 2015
Laffy Taffy by D4L just hit the top of most streamed chart, followed by Levels by Avicii, then a sample of Ludacris sneezing. #TidalFacts

— #TidalFacts (@FakeTIDALFacts) April 28, 2015
Kanye's 'So Help Me God' isn't a Tidal exclusive, but David Attenborough's narration of Kim Kardashian's selfie book will be. #TidalFacts

— #TidalFacts (@FakeTIDALFacts) April 27, 2015
Tidal's Hi-Fi audio is so clear, that you can hear Drake swiping right on Tinder during the entirety of Nothing Was The Same. #TidalFacts

— #TidalFacts (@FakeTIDALFacts) April 27, 2015
Up-and-comer Paul McCartney will host his new mixtape as a Tidal exclusive. #TidalFacts

— #TidalFacts (@FakeTIDALFacts) April 27, 2015