Martyn Ford Is A 6ft 8in 320lb Hulking Bodybuilder Called 'Nightmare' & Totally Lives Up To His Name

Some bodybuilders are big and muscular, some are Martyn Ford. He's a guy of Hulk-like proportions who also goes by the moniker "Nightmare"—covered in tattoos, bald, and measuring 6-foot-8 in height and 325 pounds in weight, he so totally deserves that nickname.
Nightmare wasn't always such a beast of a man though. 12 years ago he used to be a skinny guy with only 4% body fat who liked to run. Then he started to workout and bulk up and so began his incredible transformation.
"I never really had a goal as such, I just wanted to be bigger." Martyn Ford told British site Lad Bible in an interview. "12 years on I seem to be that for sure, but there's still more to achieve with my physique. The initial transformation I would say took two to three years. You were definitely looking at two different people then for sure."
It saw the bodybuilder, according to the Daily Mail, go from an 11-stone skinny teenager to a 23-stone giant who spends over $300 a week on food to get the epic amount of calories his workout demands.
Martyn Ford In The Movies
As well as being frighteningly huge, Martyn Ford is also getting into acting, which he says came about by chance.
He's starred in the film Boyka: Undisputed 4, a cult martial arts film that is the sequel to the 2010 boxing film Undisputed III: Redemption, where Ford plays a villain—a cannibal, rapist, and murderer—named Koshmar.
It's due to be released and hit the cinemas in the USA on 18 April 2017.
What Does Martyn Ford Eat?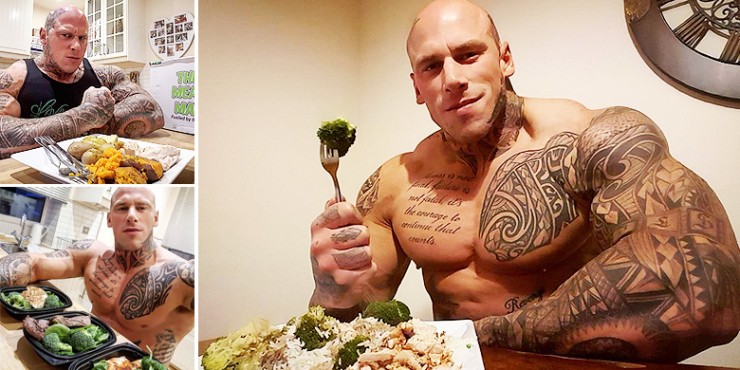 If you're wondering what kind of nutrients someone like the size of Martyn Ford needs to consume, he eats between 6,500-7,000 kcals a day. Bear in mind the standard for an average man is around 2,000. But if you're as big as he is, you're going to need meals to match.
In order to burn off all those calories Martyn Ford told Simplyshredded.com his his tough workout regime keeps him looking huge and stops him turning back into that skinny guy he used to be 12 years ago.
"Currently I am doing HIT training. I run a program for 4-5 weeks and then I have a week off, where I do high volume work." he says. "I will switch up the exercises in the second phase, but the reps and methods will remain the same. In regards to fitness, I do MMA training twice per week, with two sessions at the Gracie Academy for BJJ and 2-3 interval sessions in the gym."
Martyn Ford On Instagram.
Check out some of the best pics of Martyn Ford from his Instagram page below.
All photos of Martyn Ford via Instagram.