Google's Machine-Mind Visualisation Tool Turns Pics Into Hallucinatory Nightmare Fuel #DeepDream

A few week's back Google published a blog post about a visualization tool they've developed in relation to artificial intelligence and artificial neural networks. It basically lets you peak into the "mind" of AI models and see what they see. Titled "Inceptionism: Going Deeper into Neural Networks" among other things it featured some seriously trippy images.
They started off as normal images—a squirrel, a painting—but once interpreted by the artificial neural networks became abstract and freaky (artificial neural networks are very, very simplified software models of the human brain which try to replicate the way the brain's neurons interact and connect).
The reason the interpretations came out looking so bizarre—sometimes stunning, sometimes horrifying, mostly puppyslug—is that when the artificial neural network sees an image it's never seen before it interprets it in the context of what it already knows, i.e. all the images it's previously been fed through its database. (You can find a good and not too complicated explanation of how it works here.)
So the new image gets "tainted" with these other images—eyes or dogs for example—making for some seriously trippy, fractal and, frankly, terrifying weirdness.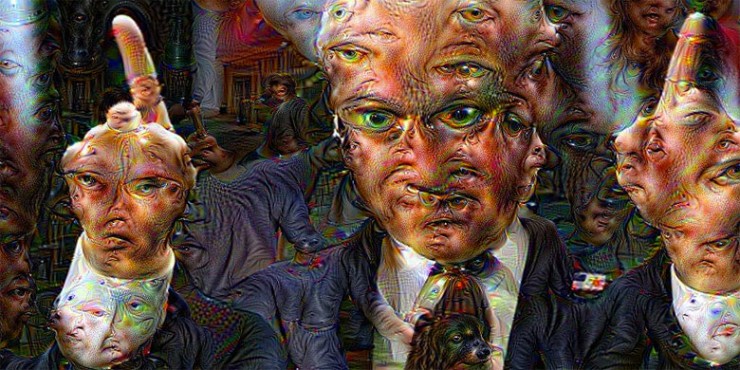 Google recently released the code they used to create these images so anyone who has the skills can use it on any picture they want, choosing how many layers to enhance and iterations to apply, and how much to zoom-in.
They've called the code Deep Dream and have asked people to hashtag any images they make using it with #DeepDream.
This has resulted in the internet becoming a nightmarish gallery of utterly strange imagery. Some people have referred to the images as "machine dreaming" and it's a great way to describe it.
We've collected some of the most interesting below.
Make your own neural network inspired images with an open source visualization tool #deepdream http://t.co/oIxBHZ7Q5G pic.twitter.com/d0IG43BMCa

— Google Research (@googleresearch) July 1, 2015
オオカミカピバラの夢を見た。 #deepdream pic.twitter.com/lyuQ1ugLWd

— osamu (@osamu) July 3, 2015
yo @kanyewest lmk when u ready to do a video and ill set up a gpu cluster pic.twitter.com/H1hxirPIUH

— Kyle McDonald (@kcimc) July 2, 2015
@charltonbrooker Behold what your careless hands have wrought! #DeepDream (Seems it got fixated on "eyes" this time) pic.twitter.com/jkeXZlebNf

— Jeremy Wilkinson (@JezWilkinson) July 2, 2015
#deepdream Dick Cheney. We all knew. pic.twitter.com/cnhCTcG7Gx

— samim (@samim) July 2, 2015
Hieronymus Bosch, The Garden of Earthly Delights #deepdream pic.twitter.com/tqPM6uMlBx

— Vilson Vieira (@aut0mata) July 2, 2015
A rare photography of The Puppyslug Nebula from the Hubble Telescope.
#deepdream pic.twitter.com/YjslsSlYAo

— Devine Lu Linvega (@aliceffekt) July 2, 2015
#deepdream NSA Headquarters. We all knew. pic.twitter.com/K7sTwERQCM

— samim (@samim) July 2, 2015
Google's trippy deep learning visual trick now open-sourced. Psychedelic furs #deepdream http://t.co/f4yZeMvwTn pic.twitter.com/FEAtW0iMUG

— Mark Bergen (@mhbergen) July 2, 2015
biking into brooklyn #deepdream pic.twitter.com/8i9nQxDZs2

— Kyle McDonald (@kcimc) July 3, 2015
"Yeah well, it did get a little weird… but I would totally go back." #deepdream pic.twitter.com/KAz9goRm0T

— John Mendonca (@johnmendonca) July 2, 2015
trying to explain to non-techy friends what #deepdream is doing. So wrote briefly about it. http://t.co/1XXKal1QAy pic.twitter.com/cqkzCYqg3k

— Memo Akten (@memotv) July 3, 2015
an elephant #deepdream using an alternative dataset trained on pictures of places. seems to be full of windmills. pic.twitter.com/4ZExbK3rky

— Matt Biddulph (@mattb) July 3, 2015
walking in sand #deepdream pic.twitter.com/N4ynU46Mkh

— Kyle McDonald (@kcimc) July 3, 2015
Tripping on Eurorack… #deepdream pic.twitter.com/1u5dZlyj1H

— Mutable instruments (@mutable_instrum) July 2, 2015
The #deepdream work by @samim is quite remarkable, neural nets telling deep stories about images. (v @samim) pic.twitter.com/iZaggpE278

— Azeem Azhar (@azeem) July 2, 2015
Puppyslug all the way down.
#deepdream pic.twitter.com/Dro7ErdYdw

— Devine Lu Linvega (@aliceffekt) July 2, 2015
#deepdream stockphotography, (c) gettyimages. Generative Copyright? Get ready for a interesting debate. pic.twitter.com/wLu0P5C37v

— samim (@samim) July 2, 2015
Wrapped in a sheepskin blanket of horrors by my ocular medusa girlfriend #deepdream. pic.twitter.com/jJf2ve3mBo

— Chris Ing (@jsci) July 2, 2015