Futuristic Concept Cars of the 1970-80s That Wouldn't Look Out Of Place On Today's Highways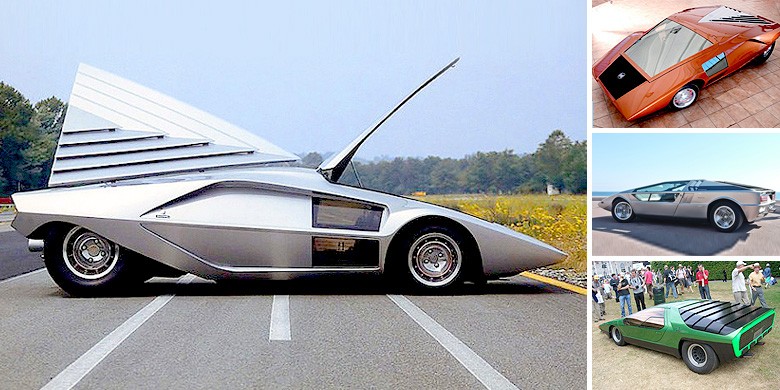 No matter what decade or even century you're in concept cars will always look futuristic, that's the point. These days that means holographic displays and self-driving capabilities–a case of technology over design–but back in the 70s and 80s the future looked very different.
It looked, well, angular. Aerodynamics was becoming key in design back then to help with fuel economy so the designs began to reflect how the cars would redirect airflow. Designers like Italy's Giorgetto Giugiaro and Marcello Gandini were creating cars that looked like something from a sci-fi film from the period. But their designs would be hugely influential.
The cars would often make an appearance at the Geneva Motor Show and, prophetically, some of them aren't far off what some of the supercars by manufacturers like Lamborghini look like today.
Some of the edges are a bit softer, but still, if you look and compare you can see the origins in these cars.
Some were straight up crazy though, like the badass 1970s Lancia Bertone Stratos HF Zero with its triangulated engine cover and windscreen that opens upwards. Crazy, but super cool.
And the sharp-cornered aerodynamic designs did find their way into 1970s production cars, like the classics Lotus Esprit, Lancia Stratos, Lamborghini Countach, DeLorean DMC-12, and plenty more.
It's a guarantee that if you saw any of the cars below driving down the street you would definitely give it a second glance, and a third, and probably a fourth. They are all beautiful in their own way.
——————————————————————————————
1971 Maserati Boomerang
"Designed by Giorgetto Giugiaro. It was first revealed at the Turin Auto Show in 1971 as a non-functional model, but by the time the 1972 Geneva Auto Show came around the company had worked it into a fully functional vehicle."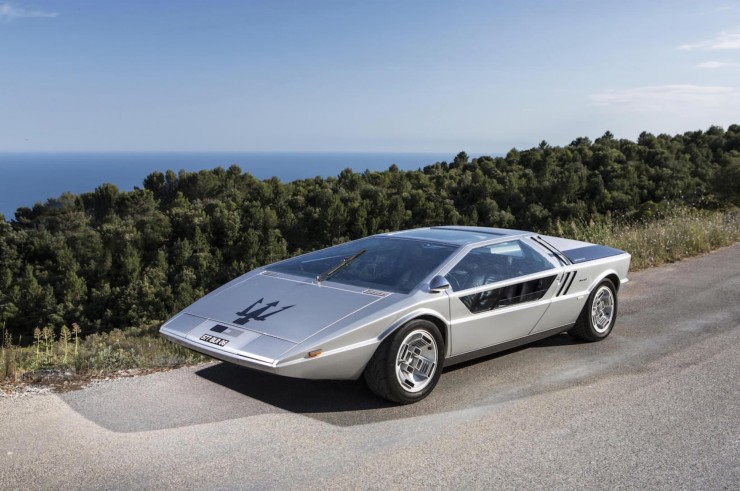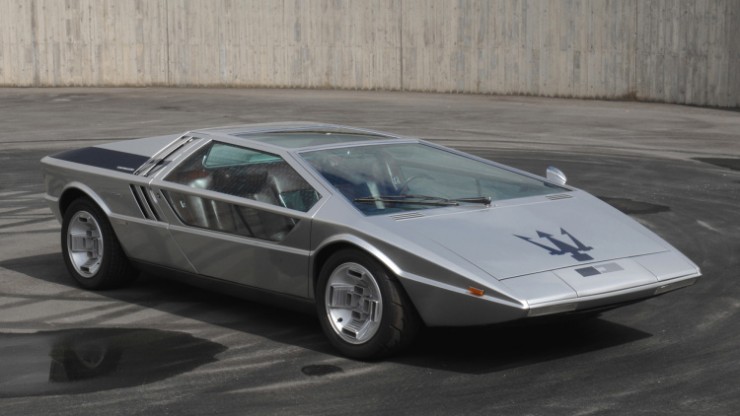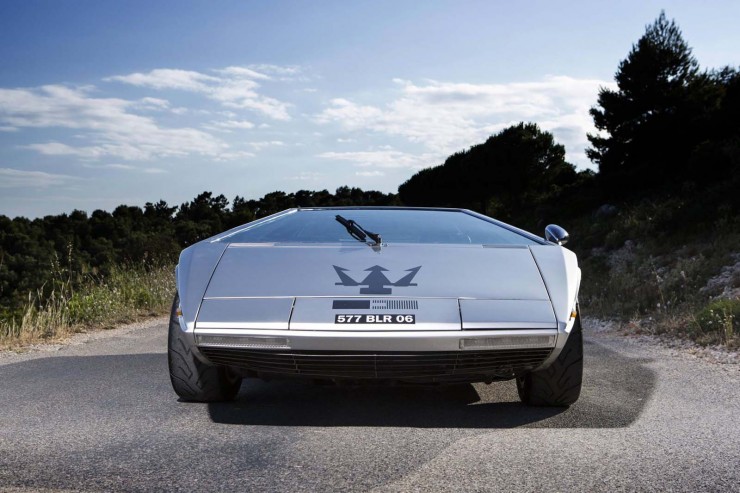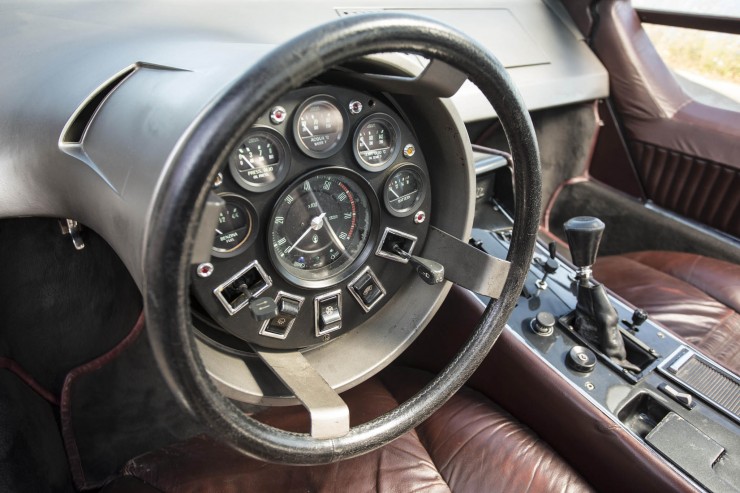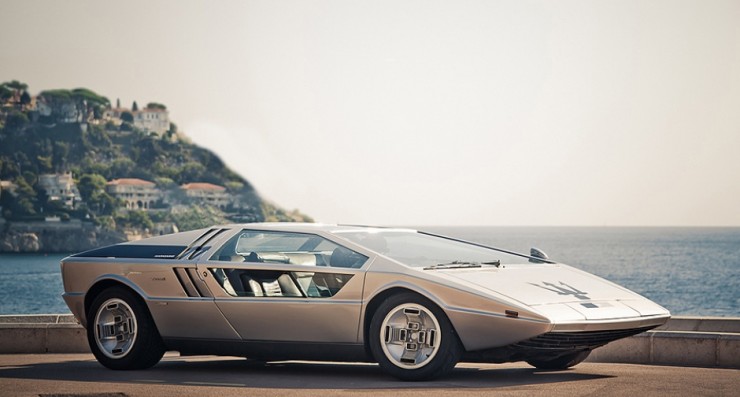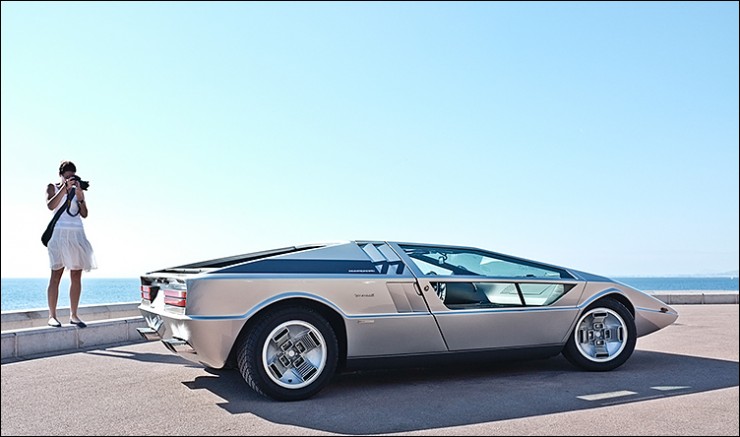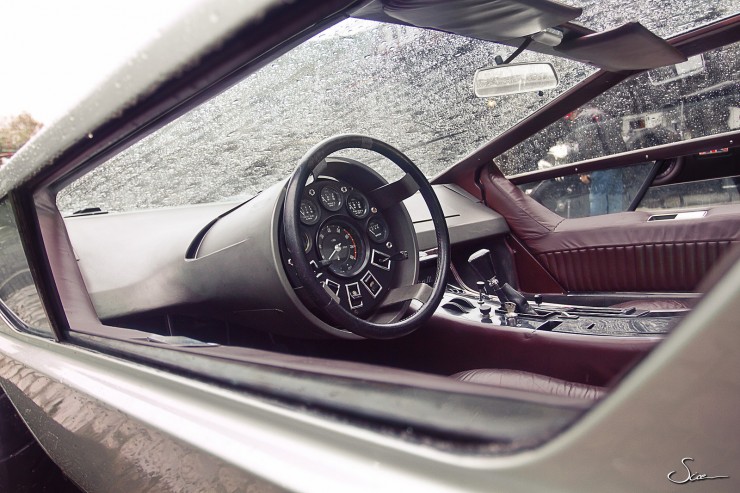 ——————————————————————————————
1979 Dome Zero
"A prototype sportscar from DOME Co. Ltd that was exhibited at the 48th Geneva Auto Show. The 'Dome Project', started by Minoru Hayashi in 1975, had the goal of producing small volume sports cars using knowledge gained from his racing exploits."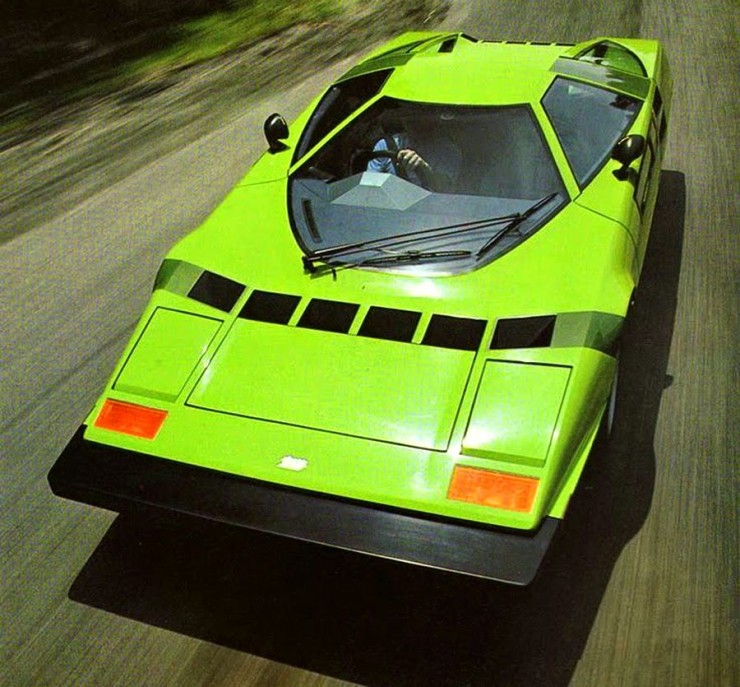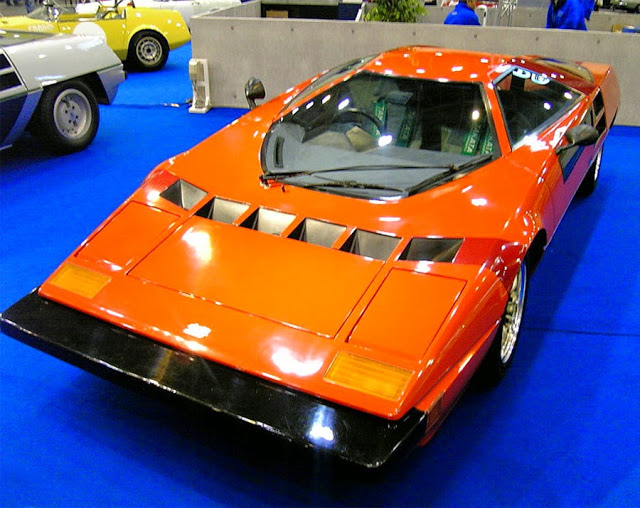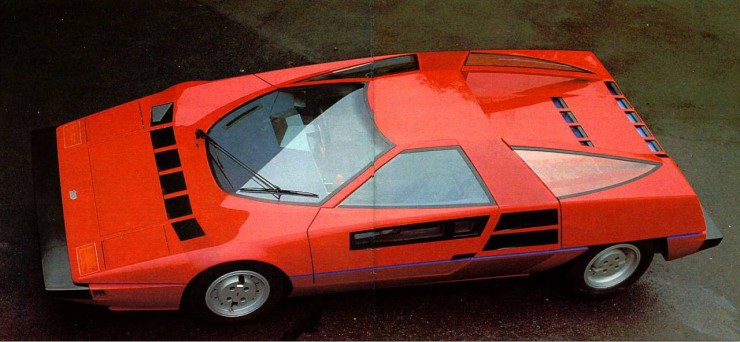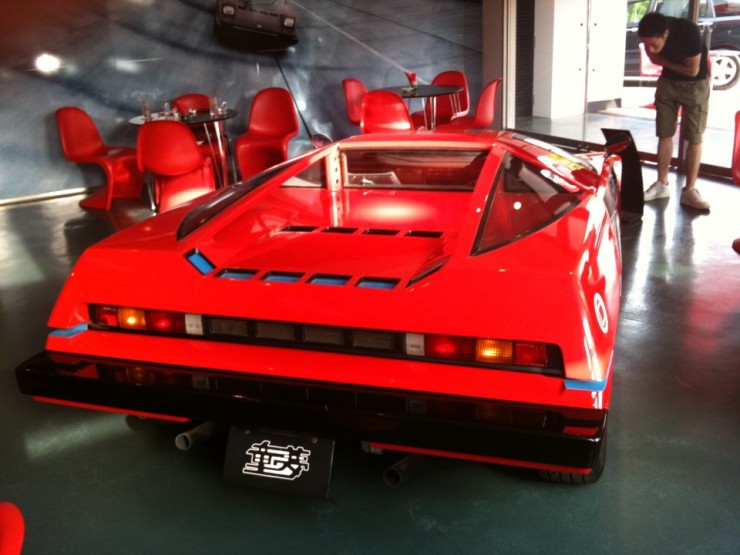 ——————————————————————————————
1970 Lancia Bertone Stratos.
"It was first shown to the public at the Turin Motor Show in 1970. The futuristic bodywork was designed by Marcello Gandini, head designer at Bertone, and featured a 1.6 L Lancia Fulvia V4 engine. It seems that triangles were definitely trending during the 1970s."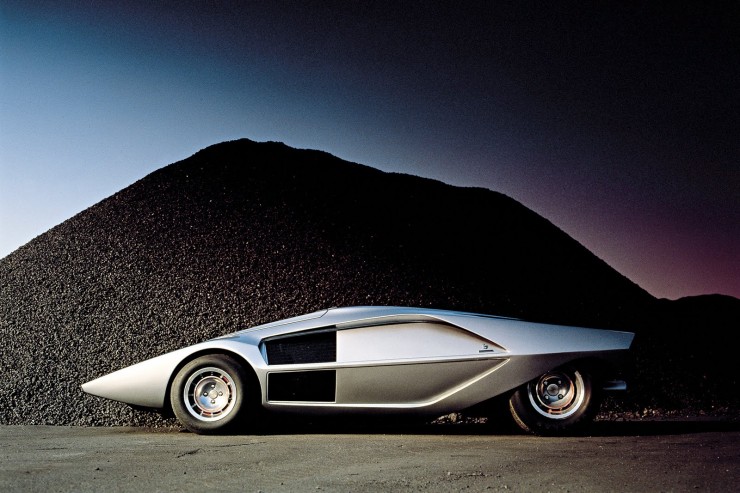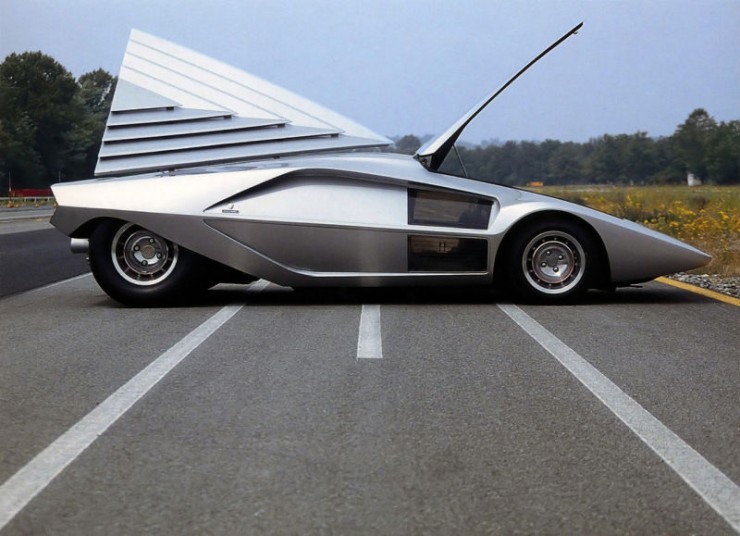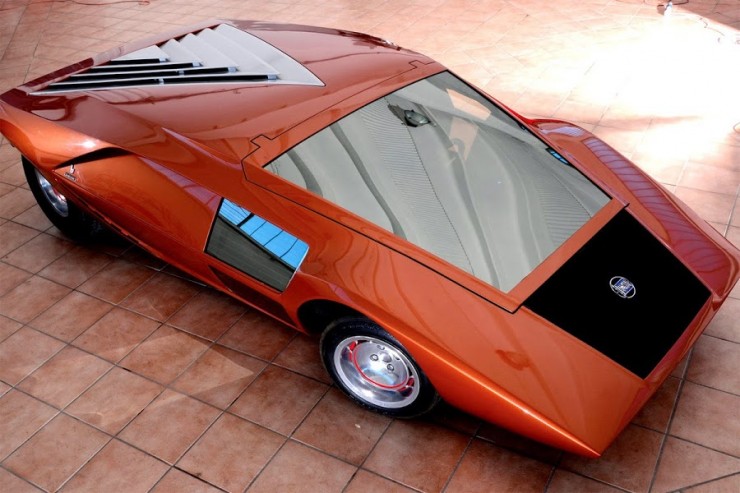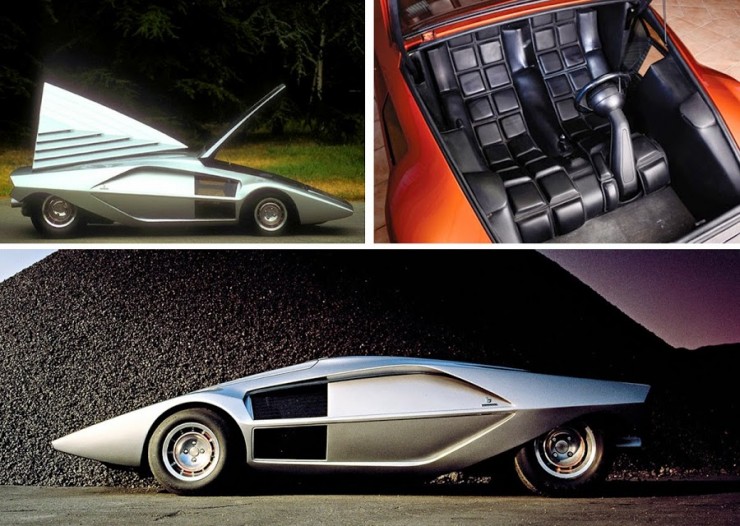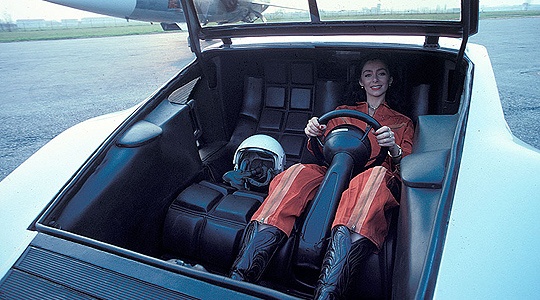 ——————————————————————————————
1983 Buick Questor
"A fiberglass vehicle containing 14 micro-computers, a laser key entry device a "systems sentinel" for monitoring vehicle systems and heads-up display speedometer gauges with a map and navigation screen."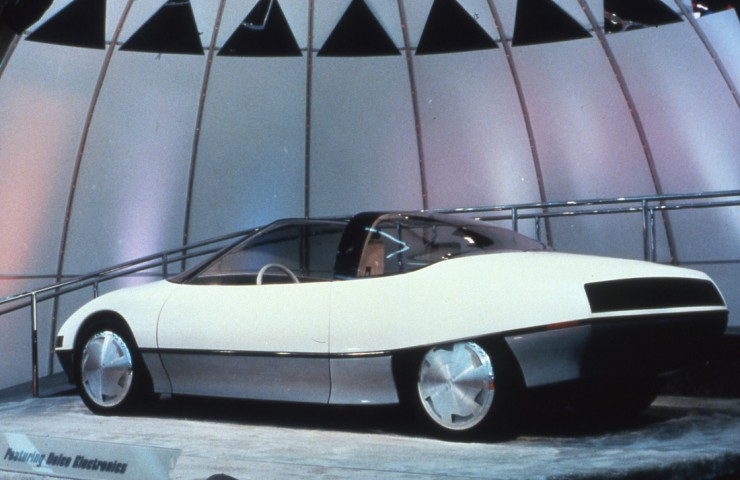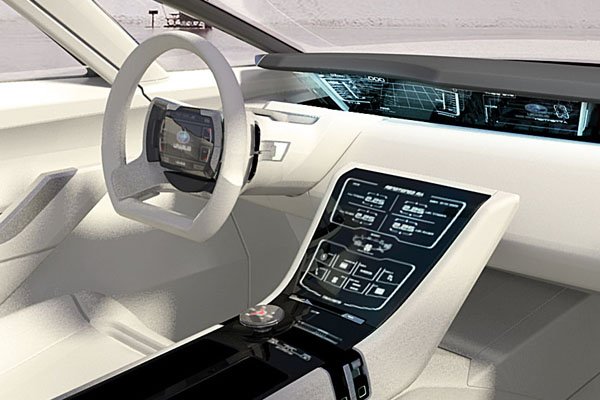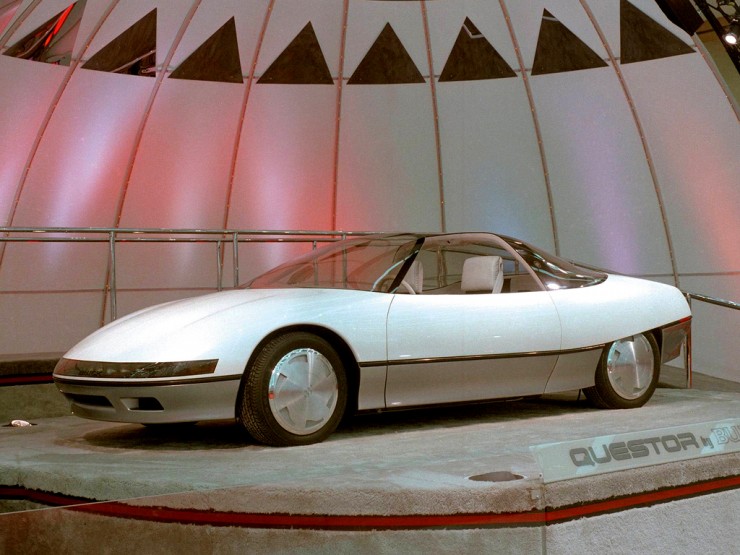 ——————————————————————————————
1984 Ford Maya
"The Ford Maya was designed in 1984, by Giugiaro. Ford intended the car for production and it had features, including a targa top. The Ford Maya was intended to have 250bhp twin turbo Ford V6 engine, however this was still being developed at the time, so a Ford pushrod iron block 3 litre V6 engine was used from a Ford Taurus, developing 140bhp."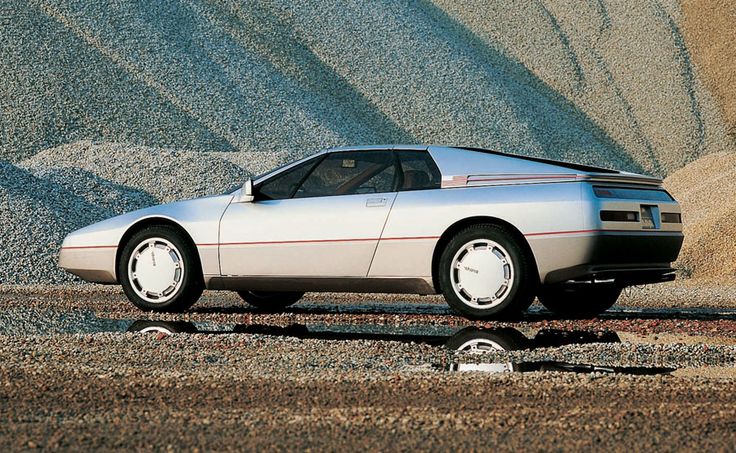 ——————————————————————————————
1968 Alfa Romeo Carabo
"First shown at the 1968 Paris Motor Show. It was designed by Marcello Gandini, working for the Bertone design studio.[2] Carabo name is derived of Carabidae, as evoked by the car's iridescent green and orange coloring."
The wedge design came into fashion in the late 1960s. The Carabo is often considered the winner of the 'Wedge War' award of 1968 and as the direct predecessor of the Countach and having heavily influenced many car designs to follow well into the next decade.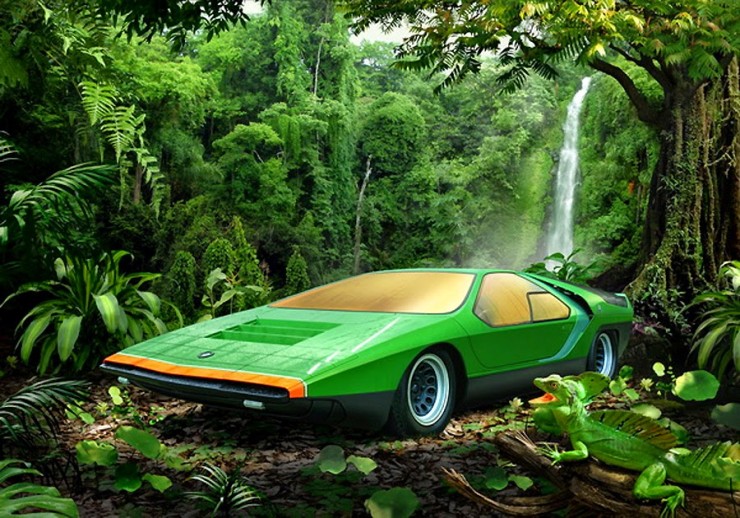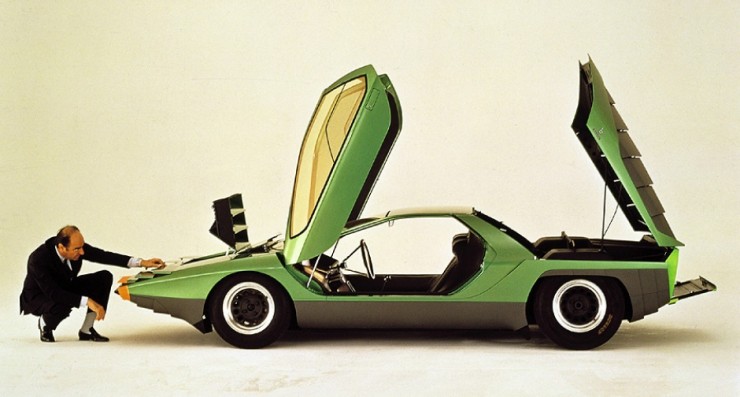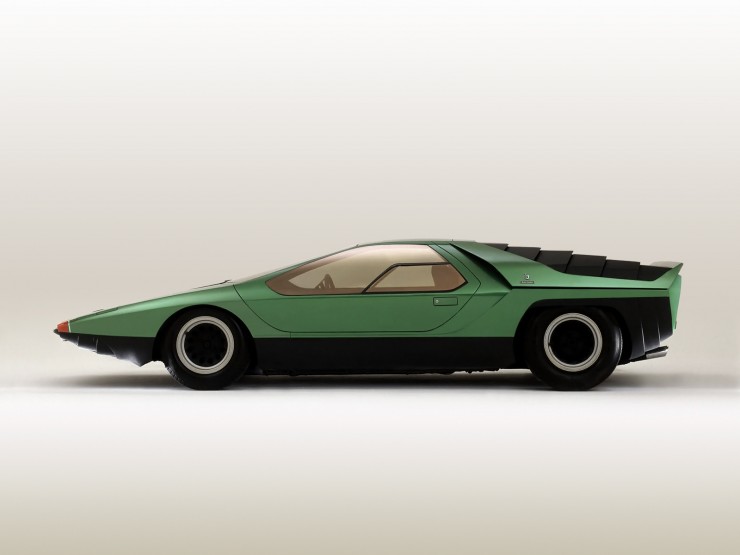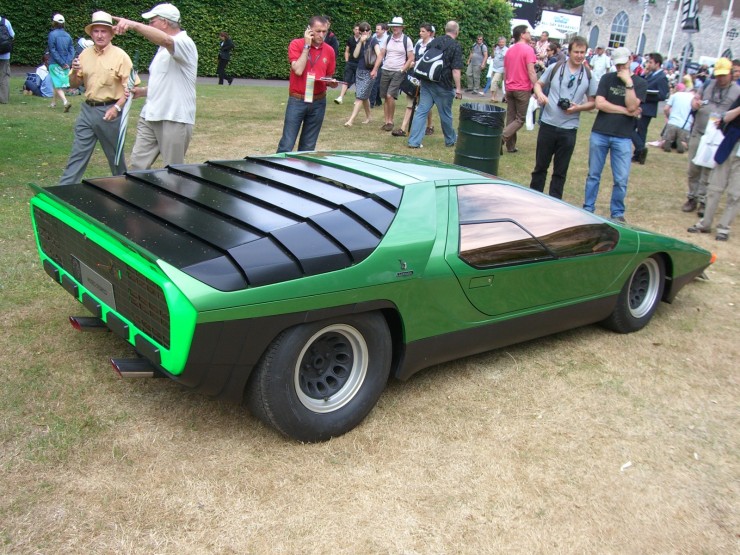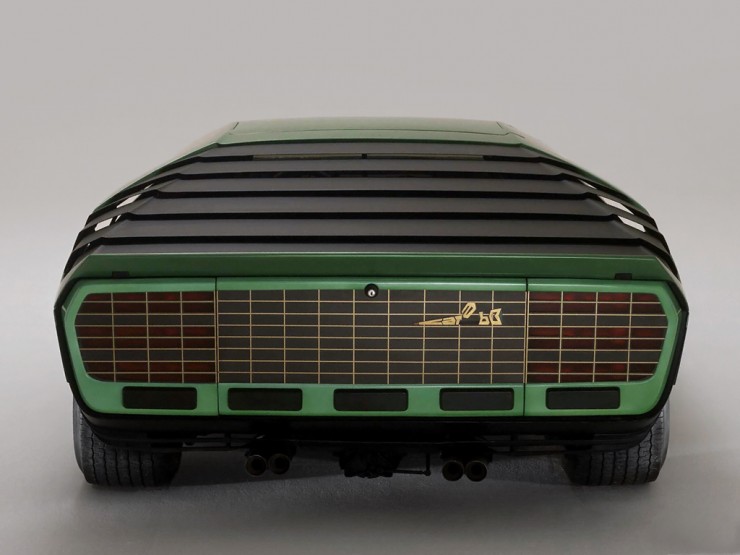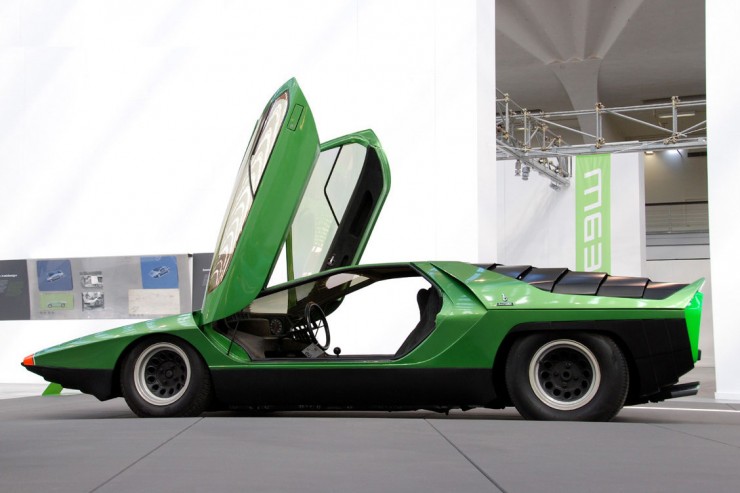 ——————————————————————————————
1976 Alfa Romeo Navajo
"Making its debut at the 1976 Geneva Motor Show, the Navajo became the last in a series of concepts based on the competition-derived Alfa chassis, which included Italdesign's Iguana, Bertone's Carabo, and a trio from Pininfarina. By this time, the 33 Stradale was all but obsolete – but Nuccio Bertone's penmanship gave the Navajo a body that pre-empted both the character and colour of the Colonial Vipers from 1978 sci-fi series Battlestar Galactica."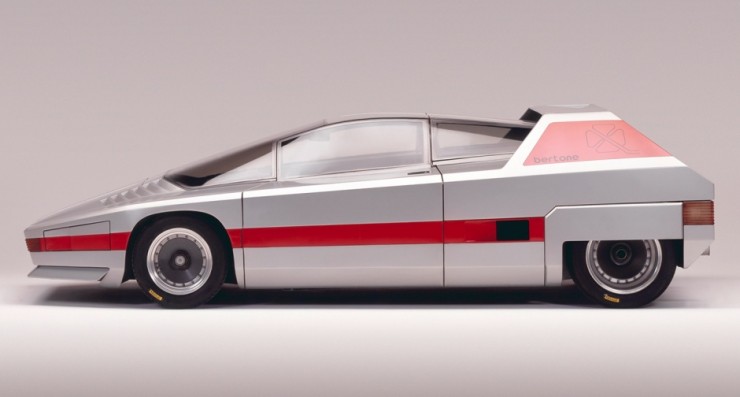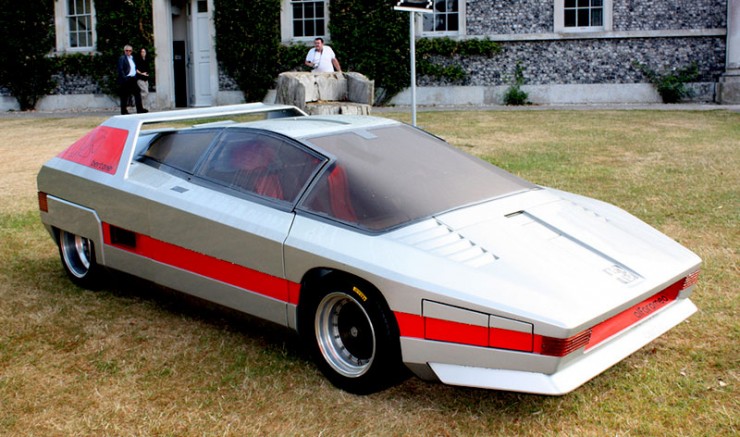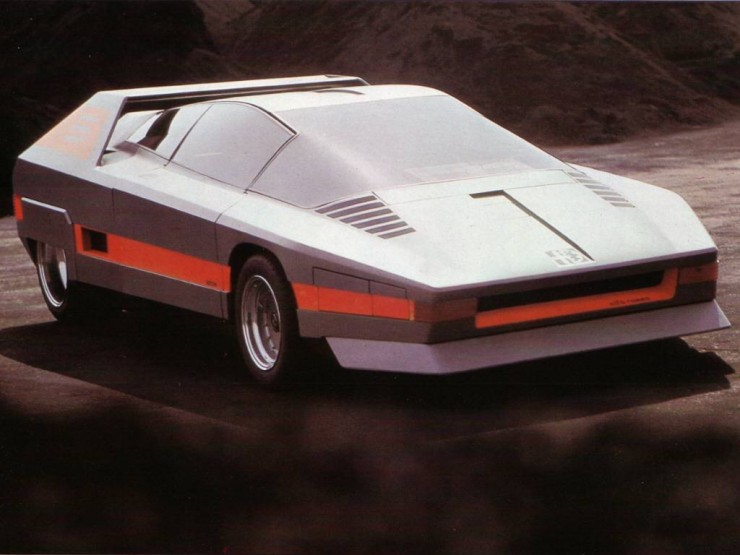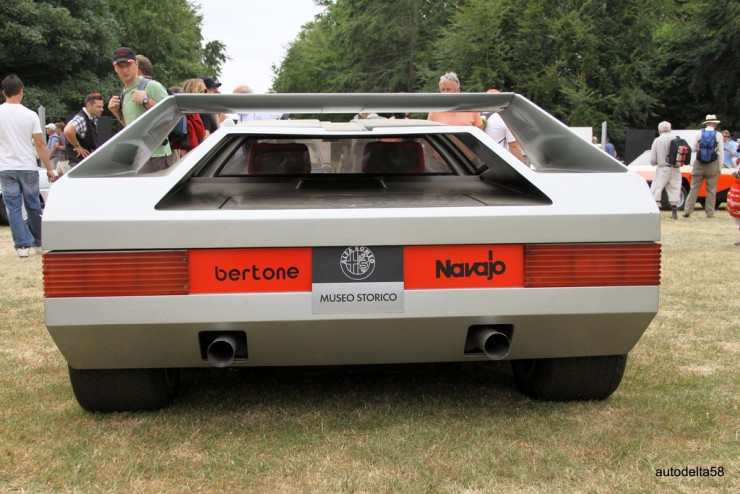 ——————————————————————————————
1980 Citroën Karin
"Presented at the Paris Motor Show in 1980 it featured a striking, pyramidal design and was designed by Trevor Fiore. The exterior of the car incorporated flush glass panels, faired rear wheels, and butterfly doors. The roof of the Karin was only the size of an A3 sheet of paper due to its truncated pyramid shape. One of the Karin's most noticeable interior features was the unique three-seat layout with the driver located in the middle of the two passengers."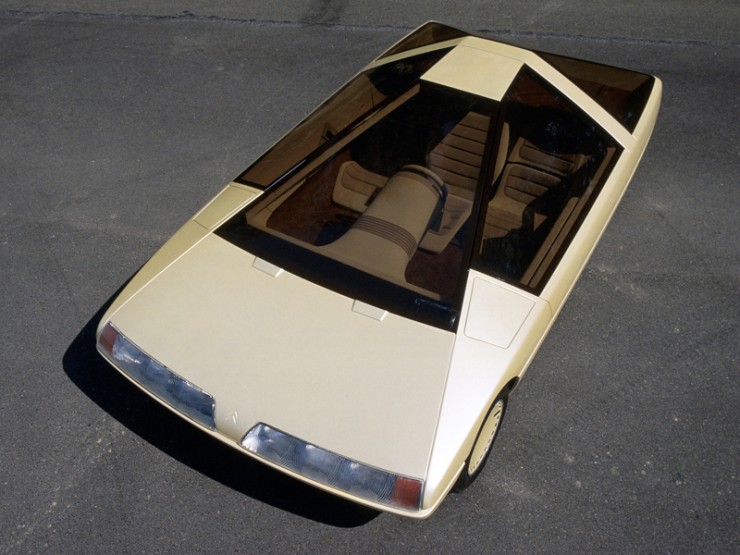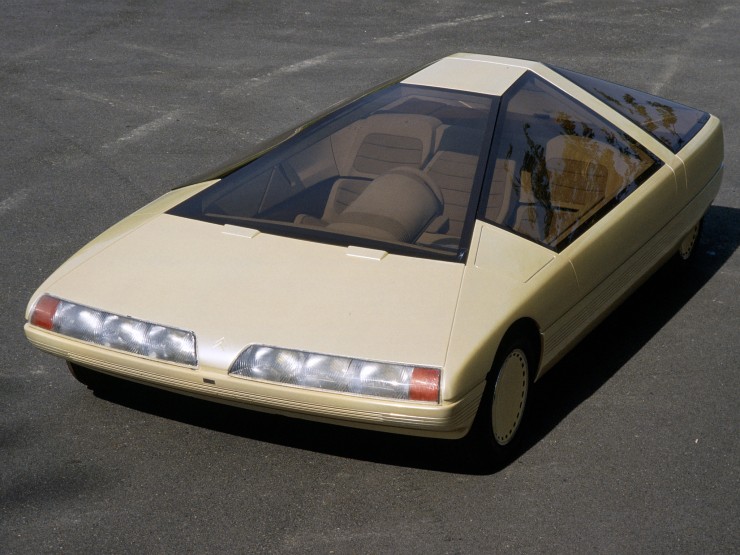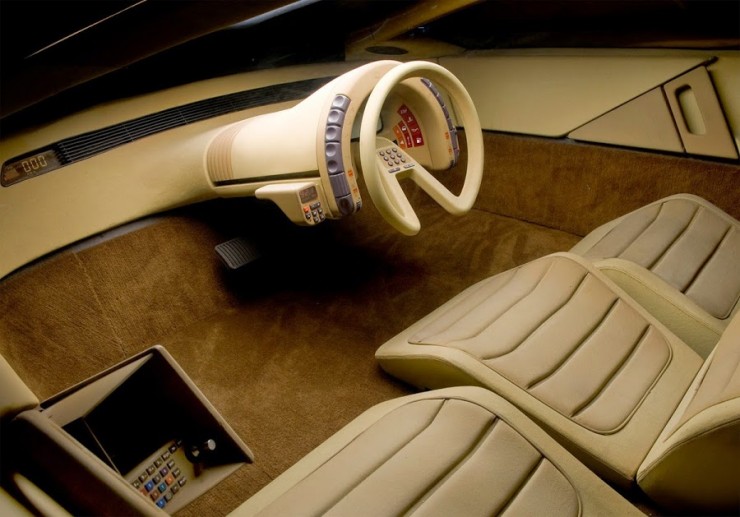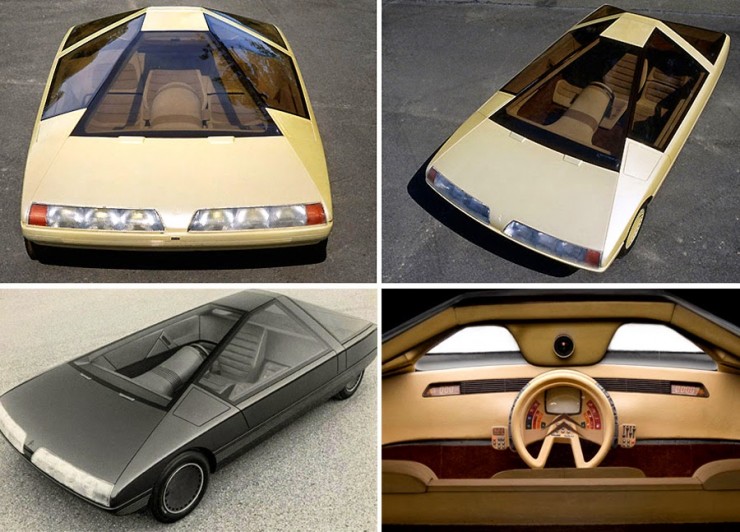 ——————————————————————————————
Lamborghini Athon
"First displayed at the 1980 Turin Motor Show and Wwdely praised, the design was based on the Silhouette chassis, which was out of production at the time. It was a sleek topless roadster, with a finely detailed, futuristic interior. The Athon was powered by a 3L, 260 bhp (194 kW) V8 engine. The vehicle was never intended to be put into production, with Lamborghini's financial troubles at the time sealing its fate. It appeared on the show car circuit and then was sent to the Bertone museum."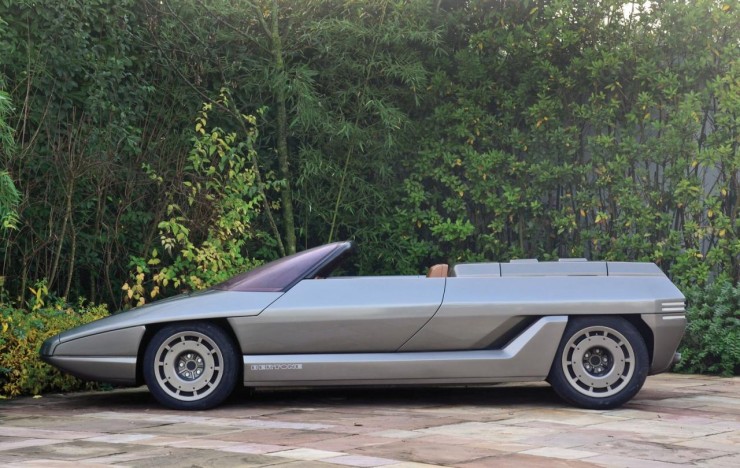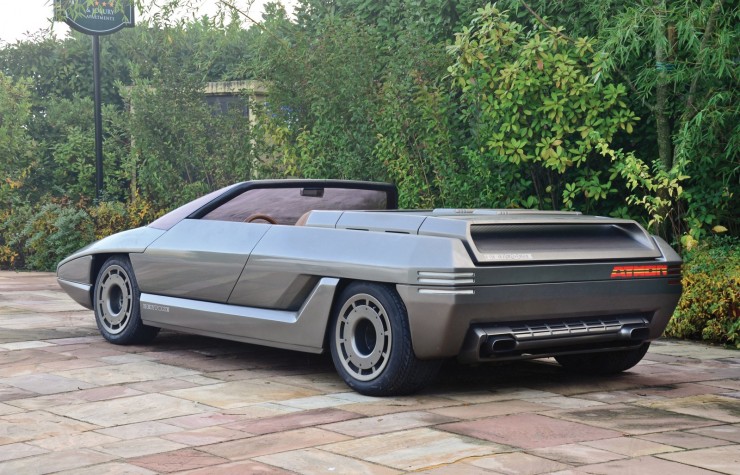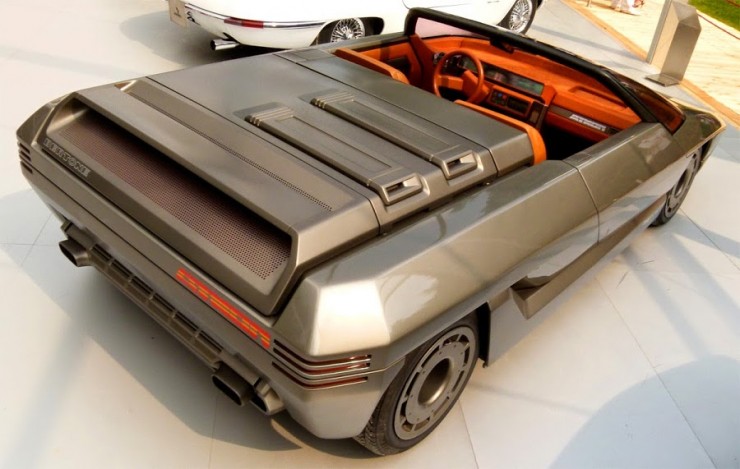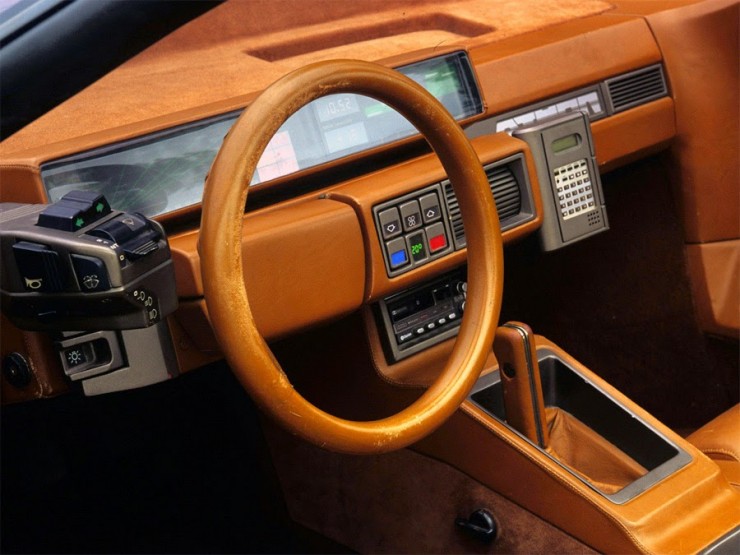 ——————————————————————————————
1979 Toyota FCX-80
"Shown at the October 1979 Tokyo Motor Show it was designed to be an experimental city car for the future that would save fuel by being light and compact. The bonnet sloped sharply, with a pod in the middle for the headlights. Front wheel drive was used, leaving the cabin floor flat and the cabin spacious. The side windows were mounted high on the waistline but this was offset by having transparent cut-outs in the body's side panels."