Everyday Objects & Animals Are Given Their Correct Names In This Hilarious Twitter Account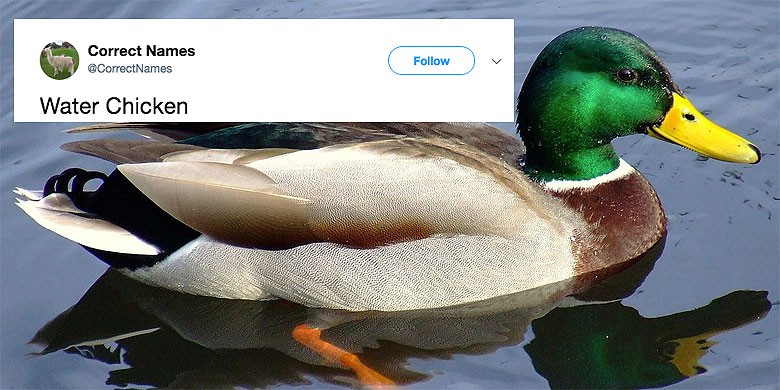 You might think you know the correct names for everyday objects and animals. But you don't. At least, you don't according to Twitter account Correct Names, the owner of which has taken it upon themselves to look at the things we interact with daily using some lateral thinking, and give them their actual proper names.
And by 'proper names' for everyday objects that means you might eat a bowl of 'bagel seeds' (Cheerios) for breakfast or sit under a 'wooden broccoli' (tree) for some shade. Are you beginning to see his logic yet?
Sure these Correct Names have something of the totally absurd about them, but then that's the point.
Mark Dempsey's 'Correct Names' Twitter Account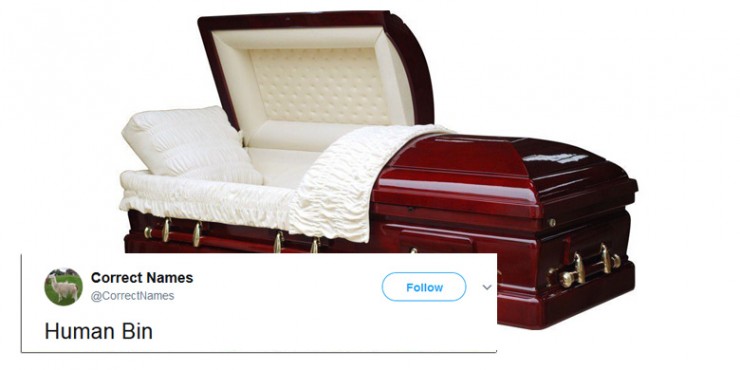 The comical account is run by Mark Dempsey from the UK and he's seen it as his duty to share these new descriptions and words for everyday objects and animals that we are all familiar with, both ones that people have sent him and his own imaginings, of things we thought we knew so well. but now we see how wrong we were.
Often they feature puns, others time they reflect the purpose of the everyday objects in question. So the correct name for a coffin is a 'human bin.' Or butter becomes 'bread moisturiser.' While a jet ski becomes a 'boatercycle.'
Some of these everyday objects might make you pause for thought, but mostly they're just very funny. Check out some of our favorites below. And then make up some of your own to amuse/annoy/worry your friends with.
These Everyday Objects Get Their Correct Names
Wooden Broccoli pic.twitter.com/zBfSUKOdWt

— CorrectNames (@CorrectNames) July 20, 2017
Prison Pony pic.twitter.com/4cXfmN4Tii

— CorrectNames (@CorrectNames) July 20, 2017
Bagel Seeds pic.twitter.com/xMw7j6KEha

— CorrectNames (@CorrectNames) July 11, 2017
God Karaoke pic.twitter.com/AJFjVeq4zM

— Correct Names (@CorrectNames) July 17, 2017
Endurance Hockey pic.twitter.com/YxER76i0cJ

— Correct Names (@CorrectNames) July 17, 2017
Temporary Balloons pic.twitter.com/WwhX0cOYam

— CorrectNames (@CorrectNames) July 20, 2017
Tomorrow Adults pic.twitter.com/7qHwWnwRMJ

— Correct Names (@CorrectNames) July 18, 2017
Murder Hammock pic.twitter.com/FzqM4tJIVg

— Correct Names (@CorrectNames) July 18, 2017
Abused Wood pic.twitter.com/FxL4tn6IYu

— Correct Names (@CorrectNames) July 18, 2017
Mouth Scissors pic.twitter.com/zlTT9IeLJf

— Correct Names (@CorrectNames) July 18, 2017
Bread Moisturiser

(@ladybarkbark) pic.twitter.com/UOaaFxTqHB

— Correct Names (@CorrectNames) July 16, 2017
Toast Blood pic.twitter.com/iaXFduqaO5

— Correct Names (@CorrectNames) July 16, 2017
Human Bin pic.twitter.com/OdnLnPTVZ8

— Correct Names (@CorrectNames) July 16, 2017
KFC Seed pic.twitter.com/AFGPGatveH

— Correct Names (@CorrectNames) July 17, 2017
Cereal Sauce pic.twitter.com/3vzJitTP4X

— Correct Names (@CorrectNames) July 3, 2017
Raw Big Mac pic.twitter.com/9rhBGD7l32

— CorrectNames (@CorrectNames) July 4, 2017
Sandwich Walls pic.twitter.com/TeTA9L6rJx

— CorrectNames (@CorrectNames) July 6, 2017
Horse Tornado pic.twitter.com/XiqlQ0QIaf

— CorrectNames (@CorrectNames) July 7, 2017
House Lego pic.twitter.com/MyTacTxLmu

— CorrectNames (@CorrectNames) July 16, 2017
2D Bowl pic.twitter.com/3oTrQ3Qxlq

— CorrectNames (@CorrectNames) July 14, 2017
Holy Water pic.twitter.com/bAKUKK5Ptn

— CorrectNames (@CorrectNames) July 16, 2017
Giraffe Torch

(@DaisyGeorgia94) pic.twitter.com/3YE6HTvhSo

— CorrectNames (@CorrectNames) July 16, 2017
Sleep Table pic.twitter.com/CH7XAIhAXY

— Correct Names (@CorrectNames) July 19, 2017
Danger Noodle pic.twitter.com/y6gxxr70kF

— Correct Names (@CorrectNames) July 18, 2017
Boatercycle

(@iLoganC) pic.twitter.com/wMkJSDpH8d

— Correct Names (@CorrectNames) July 14, 2017
T-REX Deer pic.twitter.com/c9pXPF6gGG

— Correct Names (@CorrectNames) June 17, 2017