For Those Of You Who Are Definitely Not A Justin Bieber Fan, Prepare To Become A Belieber

Before we get into it i should state that i never have, and thought i would never be, in any way, a fan of singer Justin Bieber, not his music, his looks, or his seriously lame attitude in and out of the public eye of late.
It's true, sometimes keeping on the cutting edge of stardom is a difficult thing to maintain, whether you are at the peak of your game, or are rising up the ranks of success to reach the dizzy heights of fame.
And so it is for Justin Bieber and also James Corden, one a hugely successful pop star (depending on your point of view) and the other, a relatively unknown celebrity in the US, recently thrust into the limelight as the new presenter of The Late Show.
Bieber has been keeping a bit of a low profile recently after his off-stage antics were beginning to turn him into a bit of a douche with the population in general and also losing appeal with his hard-core fans, the Belibers.
Corden, who is a very talented actor and comedian has been finding it hard to be accepted and fit into his new role as the host of The Late Show.
It's almost as if both stars were due a break and the meeting of them both on a sketch for the show, Carpool Karaoke, seems to have been just the thing they both needed.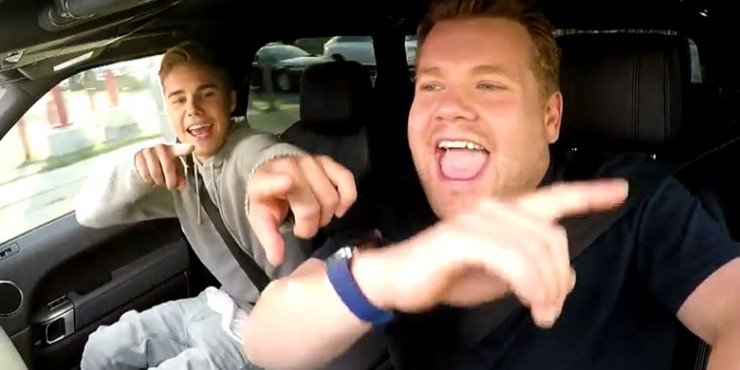 The format is simple, Corden picks up his guest (Bieber) on his way to the studio and along the way he gets to casually interview and have fun with them by playing some of their hits and they both sing along as they drive to their destination.
It's a regular slot in the show that has been running since Corden took over the role, but to any regular viewer it sometimes comes across as stilted and awkward.
Not this time though.
Bieber comes across as a pretty cool guy, natural, self-effacing and playing down pretty much every compliment James Corden throws his way, like when he says about the hit song 'Baby', "it's just a huge, huge tune", to which Justin replies, "It's got the most dislikes on the internet". And so it goes on as they drive.
Corden for his part is SO un-American in his approach to interviewing that i think it has put a lot of his guests off-balance in the past, it seems they fail to 'get' his casual English humor and personal, off-guard approach, it sometimes results in a wooden response.
However, in this case the outcome is a great piece of alternative comedic TV viewing that brings out something in Justin Bieber that i've never seen before, and if i'm honest, i quite like.
So i wouldn't say that i'm a Beliber just yet, but i'm beginning to see what the appeal is.