Deep Dark Fears: Fran Krause Turns People's Most Irrational Fears Into Hilarious Comics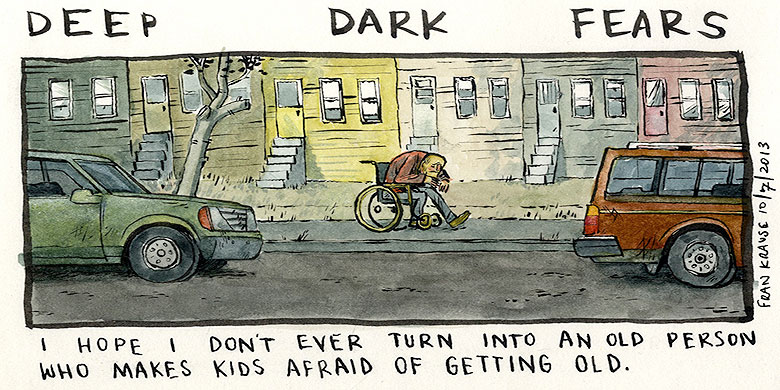 If like Illustrator Fran Krause you might have a few bizarre deep dark fears that you nurture deep down inside, but don't really like to tell anyone about. It's not a problem to admit that you have them, we all do, it's human nature. Or maybe you don't, because you're psychologically perfect, in which case you're a freak.
Krause asks people to tell him their strangest and most inexplicable fears and he turns them into comics so we can all wallow in our collective freakiness. The series is called Deep Dark Fears and started out with Krause's own fears but evolved to include reader-submitted ones too. Most of which can be traced from early childhood memories.
Some of them are understandable, some of them are freaky, some are just creepy, some are amusing.
But all of them are fascinating to read and show you that, you're not alone in your oddness—we're all weird.
You can now buy a collection of the Fran Krause's favorite illustrations in his new book 'Deep Dark Fears' online.
He describes the content on his website as, "We all have strange, irrational fears—from seeing ghosts in the bedroom mirror to being sucked into a mall escalator or finding yourself miles below the ocean's surface on the deck of a sunken ship. In Deep Dark Fears, animator, illustrator, and cartoonist Fran Krause brings these fears to life in 101 vividly illustrated comics inspired by his wildly popular web comic and based on real fears submitted by online readers. Deep Dark Fears reveals a primal part of our humanity and highlighting both our idiosyncrasies and our similarities."
Just remember what Hunter S Thompson said, "When the going gets weird, the weird turn pro."
The Best Of Fran Krause's Deep Dark Fears