10 Touching Moments Of People Reunited With Their Dogs Will Get You Reaching For The Kleenex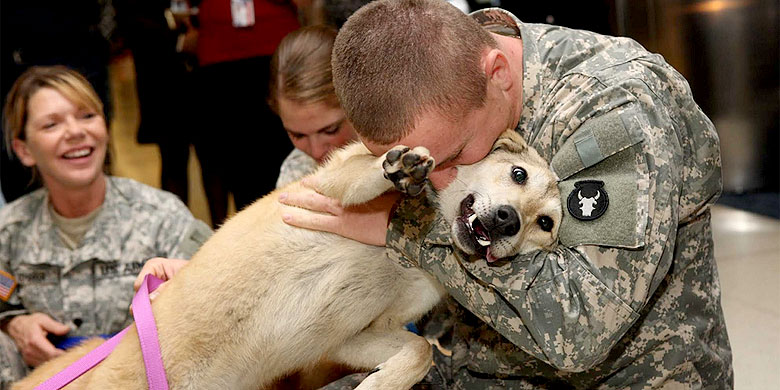 You have to admit it (even if you are a person without any feelings whatsoever), but there is something very emotional and heart-felt about watching people being reunited with their beloved canines that makes everyone reach for the tissues.
It's a special bond of unconditional love between animal and human that permeates into the hearts of every dog owner. Anyone who has a canine in their family will know this feeling.
Our canine friends are a part of our family and when we have to spend time away from them it can be both hard on dog and human, but what makes it truly wonderful is how our pets react to us when we finally get to see them again, it's a special moment.
For some reason 'man's (or women's) best friend' brings out an inner emotion in all of us that displays our love for our pets and these 10 examples will pull hard on your heart strings.
1. When a lost dog finds it's way home you know there will be floods of tears.

2. Being without your owner for 6 months is almost too much to bear for this dog.

3. The famous Oklahima dog gets reunited with it's owner live on TV (you'll need LOTS of tissues for this one)

4. Sometimes it's not the human that cries when they are reunited.

5. Even big dogs turn Into puppies when reunited with their owners.

6. Sometimes your best friend can get a 'little' over excited when they see you again.

7. Even being swept away in a tsunami can't keep their dogs from finding their owners.

8. The sound this beautiful dog makes will melt your heart and exhaust your supply of tissues.

9. Being a big dog has it's advantages when you want to lick your owner's face

10. And finally, just in case you wanted more stories here's a whole bunch of tear-jerkers of soldiers being reunited with their beloved pets.